5 best US cities to visit now, according to a travel expert
There are two types of vacationers: those who live for jam-packed days and those who leave their schedules wide open. If you fall into the first category, you may want to make your next trip a city getaway. According to Expedia's 2023 Travel Trends report, cities are seeing a resurgence in popularity for travel, and it's easy to see why. For starters, there are endless activities to choose from with guided tours for foodies and architecture buffs, festivals, concerts and more. Additionally, you can skip the hassle of renting a car when you're able to rely on public transportation and get places on foot. And finally, you'll likely get more bang for your buck this time of year.
According to Expedia data, average hotel rates for U.S. cities are well below $250 per night for the summer months, and many top destinations have roundtrip airfare deals under $300. The booking site found that New York, Chicago, Denver, Seattle and Austin are among the most sought-after city destinations from July through September. To make bookings a breeze, travel expert Mark Ellwood stopped by TODAY to share top hotels and activities in each of the five. They're all highly rated by reviewers, and the hotels start at less than $200 per night.
Interested in switching up your annual beach retreat with a metropolitan stay? We're here to make the unbeatable deals even better for TODAY readers. You can now score an additional 10% discount on select Expedia properties with code TODAY10. (Note that you'll need to click through the links below in order to redeem.) Plus, Expedia members can take advantage of more members-only discounts. Not a member? Sign up here for free.
Best U.S. city getaways for summer
Summer is a great time to explore all that Seattle has to offer, according to Ellwood. There's Pike Place Market, the Space Needle and the Seattle Great Wheel — which is one of the largest Ferris wheels in North America. It's worth checking out Seattle's tribute to the history of Northwest music too, with a visit to the Museum of Pop Culture. And for those who want to experience an annual holiday for Seattleites, Ellwood recommends visiting during Seafair Weekend from Aug. 4-6. Set on Lake Washington's shoreline, it's the largest boating event, air show and festival all rolled into one (with features like the U.S. Navy Blue Angels).
Kimpton Hotel Vintage Seattle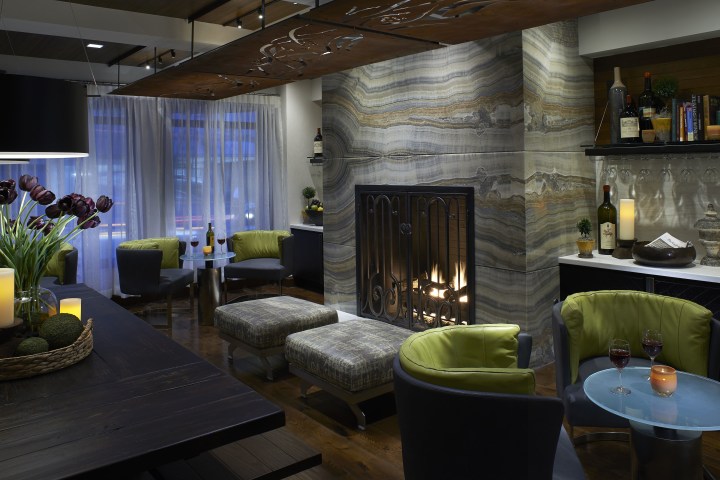 The Kimpton Hotel Vintage Seattle is in the entertainment district of the city, says Ellwood — near the Seattle Art Museum, Pike Place Market and only a few blocks from the waterfront. While you are there, indulge a little and take the Seattle Chocolate Tour starting at $80 a person where you will try 12 different chocolates and visit eight of downtown Seattle's most beloved food spots.
CitizenM Seattle South Lake Union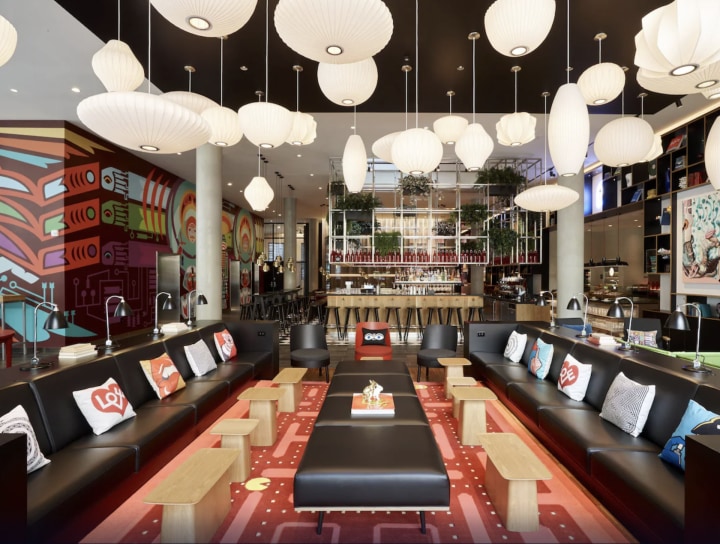 You can't visit Seattle without a trip to the Space Needle and Chihuly Garden and Glass, and luckily there's a hotel right near both. CitizenM Seattle South Lake Union is perfect for those looking for a trendy spot near the city center. Other activities worth checking out include the Woodland Park Zoo, Bell Street Cruise Terminal at Pier 66 and shopping at Pike Place Market. It's the details that make each room special — like hydromassage showers and eco-friendly toiletries — and for a limited time you can book a stay for 10% off with code TODAY10.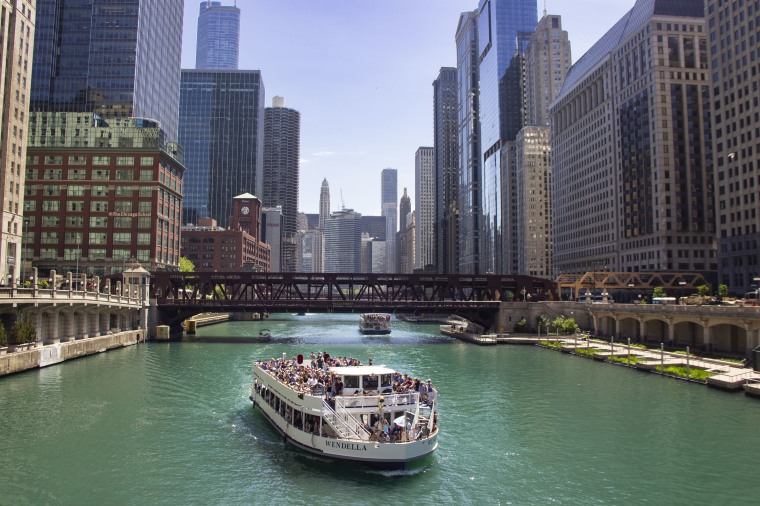 Chicago comes alive in the summer, says Ellwood. The Riverwalk, the Lake Michigan beachfront and the parks are the big hotspots in the city. While you are there, check out Millennium Park and take a river cruise too. Music lovers should plan their trip around Lollapalooza, Chicago's annual music festival held in Grant Park from Aug. 3-6, when the hottest performers like Billie Eilish, Kendrick Lamar and the Red Hot Chili Peppers take the stage.
The Godfrey Hotel Chicago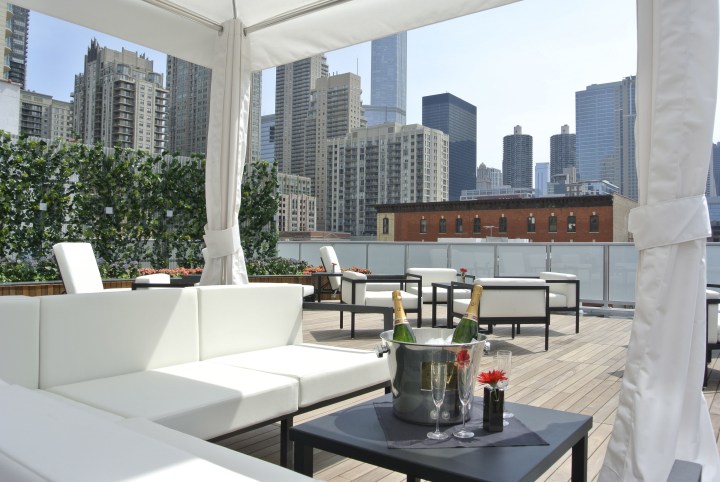 Ellwood's Chicago hotel pick is the Godfrey. You'll be in the heart of the city — rooftop lounge included to take in the views! Ellwood loves that you can walk to the beach and Riverwalk and enjoy plenty of shopping right in the area. For $40 a person, you can book Wendella's Chicago River Architecture Tour to experience the city's legendary architecture from the best seat in the house: the river. If you thought this stay couldn't get any better, you can save 10% with discount code TODAY10.
The Chicago Hotel Collection – Magnificent Mile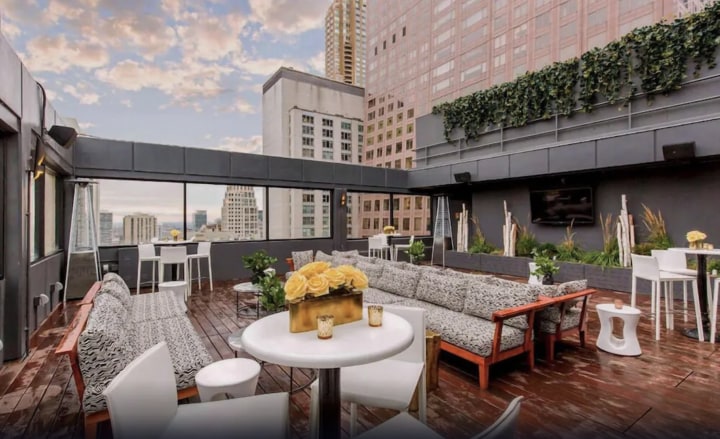 Located in downtown Chicago, The Chicago Hotel Collection – Magnificent Mile is the perfect place to take in the area's natural beauty. It's close to the beach, parks (like Millennium Park and Grant Park) and trails for both hiking and biking. Fuel up with a Chicago pizza tour, then relax and unwind in your room while enjoying premium bedding and first-run movies. Guest reviews give good marks for the overall value, central location and helpful staff.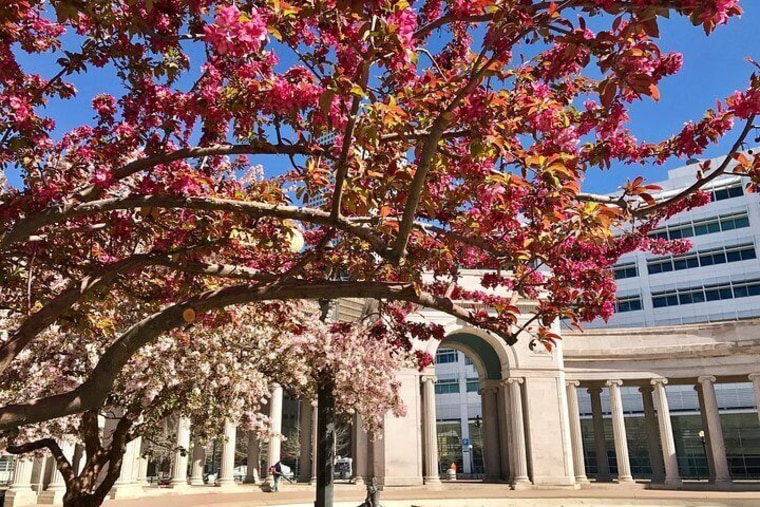 You have to visit Denver, according to Ellwood. There's so much to do, like visit the Denver Art Museums, the Denver Zoo and the botanical gardens. Outdoorsy vacationers will love all the hiking and biking, and they'll enjoy the open-air Red Rocks Ampitheatre (built into a rock structure) which holds concerts and events just outside of the city. Ellwood adds that beer lovers have to check out the Great American Beer Festival from Sept. 21-23 at the Colorado Convention Center. You can try as many local beers as you can handle responsibly, and the event represents the largest collection of U.S. beer ever served.
Warwick Denver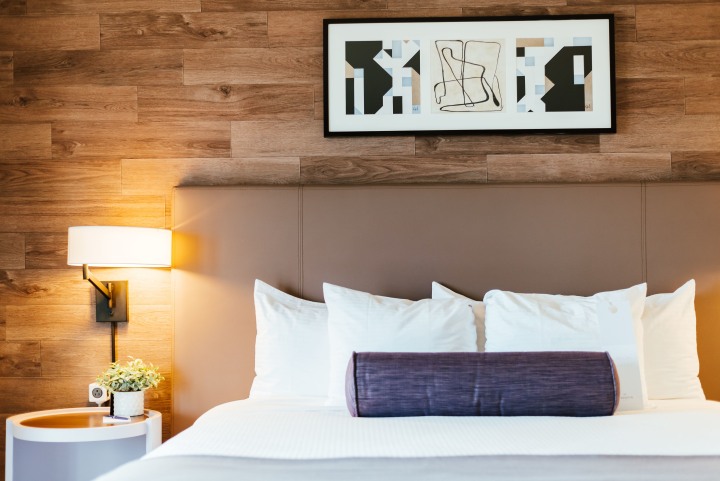 Warwick Denver is a boutique hotel with a rooftop pool near the 16th Street Mall. It's perfect for a summer getaway and a true urban refuge in the Mile High City, according to Ellwood. If you're worried you might not see everything during your trip, or just want to see more of Denver like a local, take the Best of Denver Tour starting at $27 per person. This tour is lovingly referred to as the tour that has everything, Ellwood says. You'll see all of the sights — from the Colorado State Capitol building to the shops at the Denver Pavilions.
The Source Hotel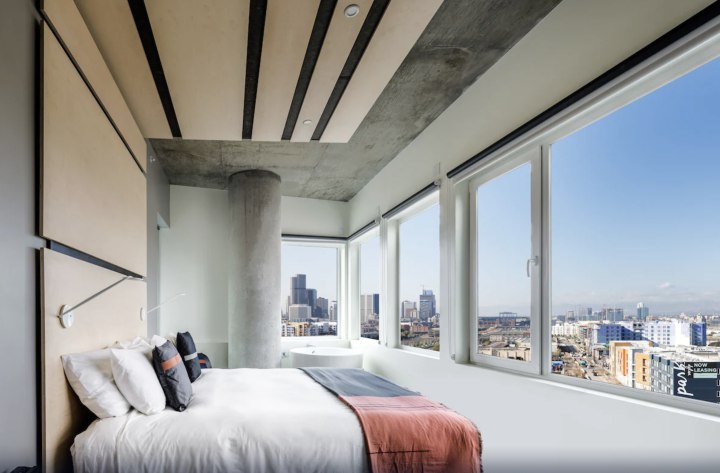 A rooftop terrace, outdoor entertainment area and hot tub are just a few of the amenities provided at The Source Hotel. Also onsite, guests can enjoy retail therapy while shopping at designer stores and fine dining while eating at any of the property's six restaurants. There's plenty to do without leaving the property, but if you're up for a day trip try touring Pikes Peak and the Garden of the Gods just an hour away from the city. Don't forget to use code TODAY10 for 10% off your stay!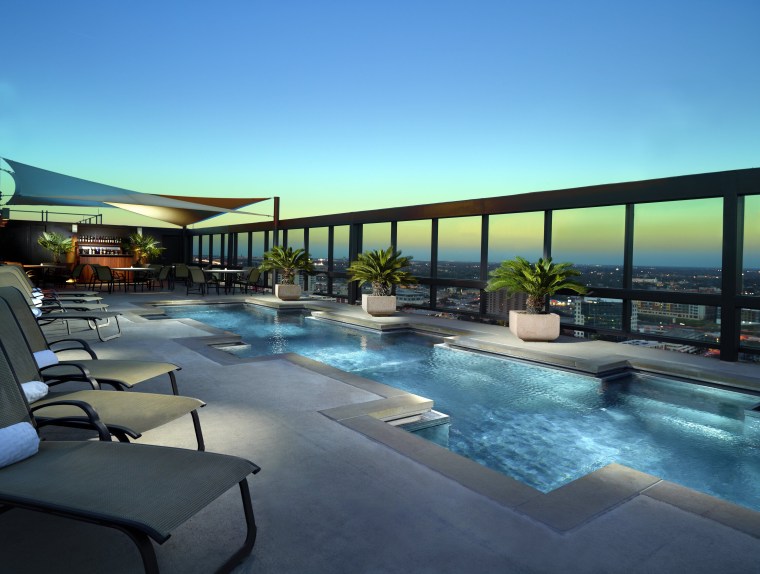 Austin Texas is one of the fastest-growing cities in the US, and Ellwood says you'll understand why after vacationing there. First of all, live music is everywhere — from grocery stores to concert halls. You can explore sculpture gardens, historic homes and local fare with some of the best barbecue restaurants and cocktail scenes in the country. Wine lovers will enjoy the Texas Hill Country, with more than two dozen vineyards and rolling hills just west of the city. And as if you needed another reason to see Austin, go for Austin Bat Fest on Aug. 26, when 1.5 million Mexican free-tailed bats emerge from under the Congress Bridge at dusk. Locals have made this daily routine into a festival with two stages of live music and more than 50 vendors.
Omni Austin Hotel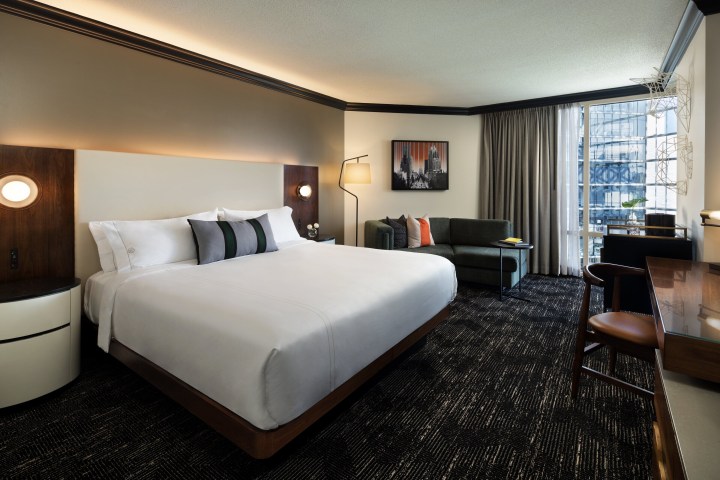 Ellwood recommends the Omni Austin Hotel in downtown Austin for its rooftop pool, where you can cool off from the Texas heat. Another option? Kayaking on Lady Bird Lake with rentals starting at $25 per person. There's also a restaurant, a bar and you'll be just a few blocks away from the city's live music and nightlife. Use code TODAY10 to save 10% on your stay.
Hotel Ella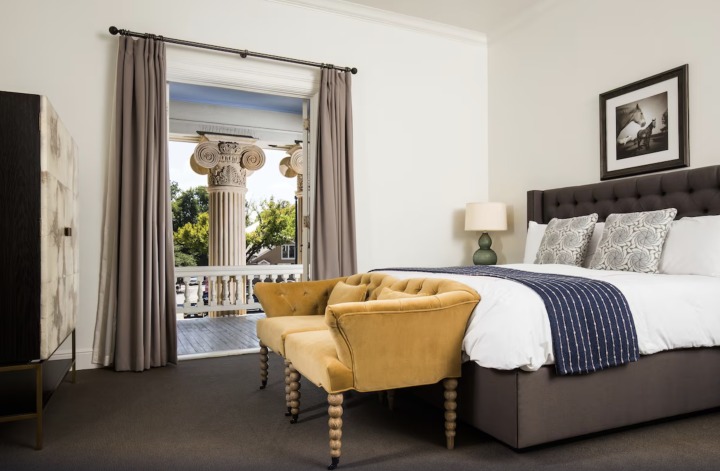 Hotel Ella is located in the vibrant city center of Austin, and it's close by many activities no matter your interests. If you love nature, you'll enjoy spending time around Lady Bird Lake or Lake Austin. If you're seeking adventure, you'll want to try water skiing or water tubing on the lake. And if you want something unexpected, you should definitely check out the Weird Austin City Tour. Once you're back at the hotel, take a dip in the pool or lounge in a free cabana, then grab a bite at the restaurant or a drink at the bar. For a limited time, you can score a 10% discount on your stay by using code TODAY10.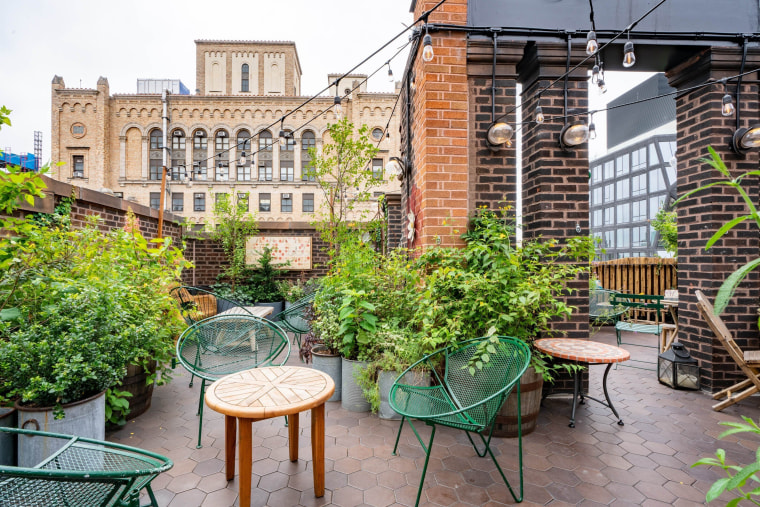 No matter what time of the year it is, there's always so much to do, see and of course, eat in New York City, says Ellwood. There's Central Park, the Empire State Building, Times Square, the Brooklyn Bridge and, when you want to beat the heat, Broadway plays and iconic museums. Foodies will love to indulge at the Feast of San Gennaro, where chefs and vendors line the streets of Little Italy and celebrate Italian culture and food from Sept. 14-24. Of course, you can always come visit the TODAY Show Plaza too!
Freehand New York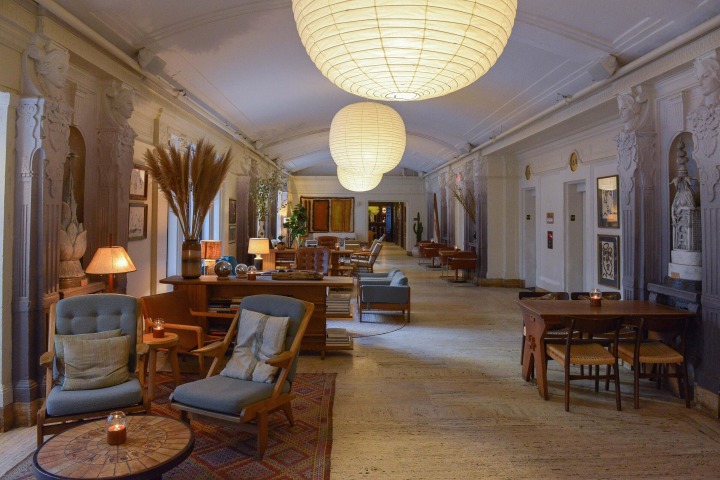 Ellwood suggests staying at the Freehand New York, an art deco-style hotel that holds a lot of history. It's the former George Washington Hotel, which was once home to many writers, musicians and creatives. Ellwood notes the downtown location is perfect for checking out the major sights and exploring downtown neighborhoods — and you can save 10% off when you use code TODAY10.
Moxy NYC Chelsea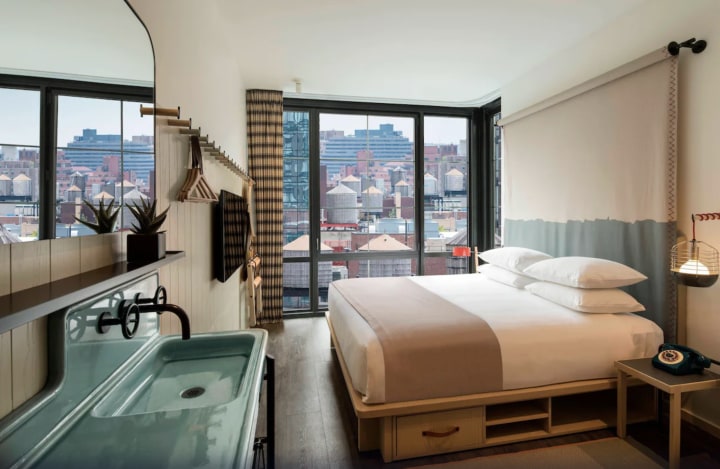 Located in the middle of Manhattan, the Moxy NYC Chelsea is right around the corner from many notable landmarks, and it has breathtaking views thanks to floor-to-ceiling windows. You can easily walk to the Empire State Building, catch a game at Madison Square Garden and even enjoy a food tour through Hell's Kitchen. If you'd prefer to explore the city via public transit — we highly recommend making a trip uptown to the Bronx Zoo — the hotel is conveniently located near two subway stops.
More travel guides: