8 Affordable Summer Vacation Spots In The Northern United States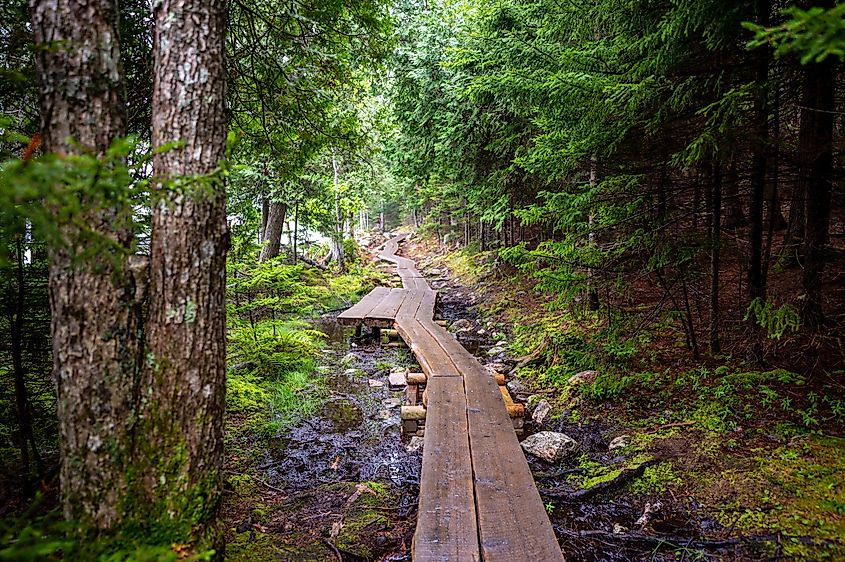 The Northern United States is a naturally conditioned wonderland of free hikes and endless coastal miles for water fun. Explore on a budget for the best times away from the expansive southern resorts, making them jealous under the scorching summer's sun. Choose a destination for your taste and set out for an adventure of a lifetime through some of the country's most treasured natural treasures and unforgettable experiences.
Acadia National Park, Maine
Although small on a map, the nearly 50,000 acres of Acadia National Park are a heaven on earth for budget-conscious travelers in the northern United States. Moreover, the park along the Atlantic Coastline of Maine is an abounding natural getaway, encompassing Mount Desert Island, the Schoodic Peninsula, Isle au Haut, and other outer islands, readily awaiting all tastes of adventure. There are plentiful campsites and places to set up a tent or park an RV near the 60-mile coastline, from the beaches to the wilder shores. Enjoy over 150 miles of trails for hiking and 33 miles of scenic motor roads for those rainy days to make every precious day of summer memorable. Seeking restaurants and bars for the evening? The local communities like Southwest Harbor and Bass Harbor warmly welcome outdoor enthusiasts.
Mount Desert Island, the largest island off the coast of Maine, contains most of the park, with Somes Sound running through it. The quieter west area of the Sound is more secluded to explore the park's beauty in the real solitude of a close group. The 10,000-acre stretch from northeast Pretty Marsh Picnic Area to Bass Harbor Head Lighthouse on the southernmost island's tip contains mountains, coastlines, lakes, ponds, and trails. Enjoy various wildlife sights while hiking, boating, swimming, camping, and relaxing in scenic settings. Sightsee the lighthouse and enjoy all the summertime water fun at nearby places like Seal Cove Pond, Hodgdon Pond, Echo Lake, Long Pond, Somes Sound, and the Atlantic Ocean.
Bar Harbor, Maine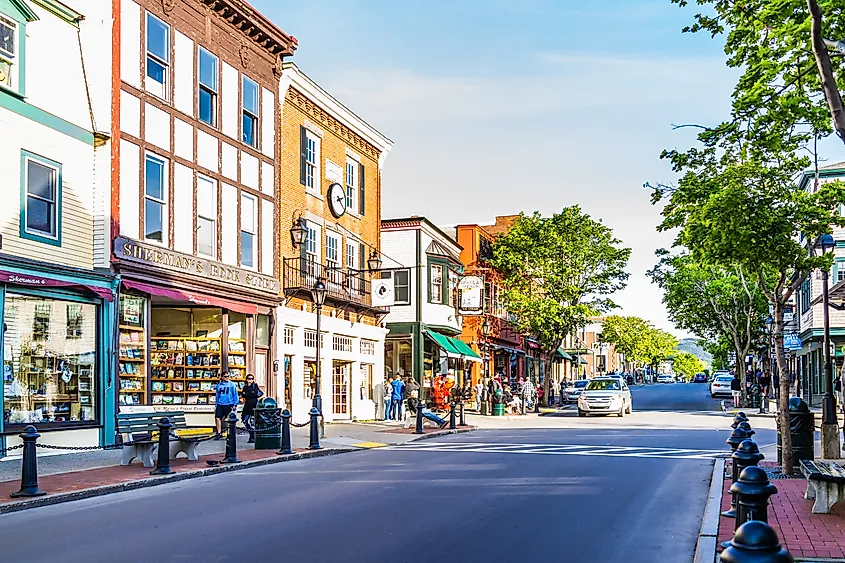 There's no wrong time to visit the lovely Maine town of Bar Harbor, but the summertime natural beauty will strike you straight through the heart and is hard to come by anywhere else. Best of all, you get the best of New England charm without breaking your wallet, complete with marine vistas and beaches for your water-loving family. Don't wait until the next summer to set off on an affordable getaway in style with a group of friends or your special someone and feel like a king or queen of adventuring. Grab a coffee to go and start with a waterfront stroll, or settle down for breakfast to get a glimpse of the local lifestyle over a plate of fluffy blueberry pancakes from Cafe This Way. Explore the town with a break for lobster ice cream from Ben and Bill's, a local delicacy perfect for hot summer days, while Agamont Park offers free movies and popcorn.
Free entertainment? Check! Enjoy easy access to the beautiful Frenchman's Bay and seek shade in the glorious Acadia National Park, one of the most popular parks in the US. With an entrance fee of $30 per vehicle or $15 per person on a bike or foot, you get to roam the stunning landscapes, which is just $7.50 per person in a car with four people for seven days to cover most of the mountains, ponds, and beaches. Experience one of the most beautiful sunrises in the US from the top of Cadillac Mountain—worth an early wake-up for a one-of-a-kind miracle on your vacation. 
Cape Cod, Massachusetts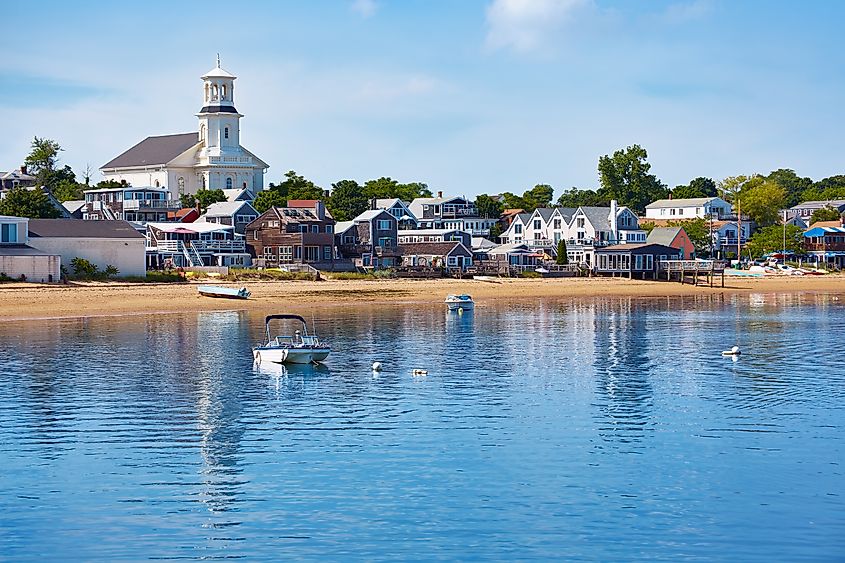 Cape Cod is the perfect place to relax body, mind, and soul in the Northern United States. Forget the rest of the world, leaving your worries behind on a stroll along miles of beaches and 11 walking trails at the seashore, or let them go at the beautiful water views while relaxing with those who matter. The 77-mile-long spit of land, divided into four main sections with 15 towns, includes highlights like Martha's Vineyard and Nantucket for a day visit. The Great Outer Beach, protected within the national seashore, is a 40-mile pristine sand stretch and habitat with marshes, ponds, and uplands, or as Henry David Thoreau put it, "A man may stand there and put all America behind him."
From lighthouses to cultural landscapes and wild cranberries, you can immerse yourself in endless family-friendly outdoor pursuits for every taste. Now is the time to visit Cape Cod, with its beautiful beaches for swimming, walking, and biking with views, as well as whale watching and sightseeing through some quaint fishing towns. Cape Cod is a truly remarkable place for a unique beach getaway in the northern part of the country on a budget! Moreover, Symphony at the Seashore, a free outdoor concert, takes place in the evening on Thursday, August 24, along the shores of Salt Pond at the Pond Visitor Center Amphitheater in Eastham, so speaking of meant to be!
Conneaut Lake, Pennsylvania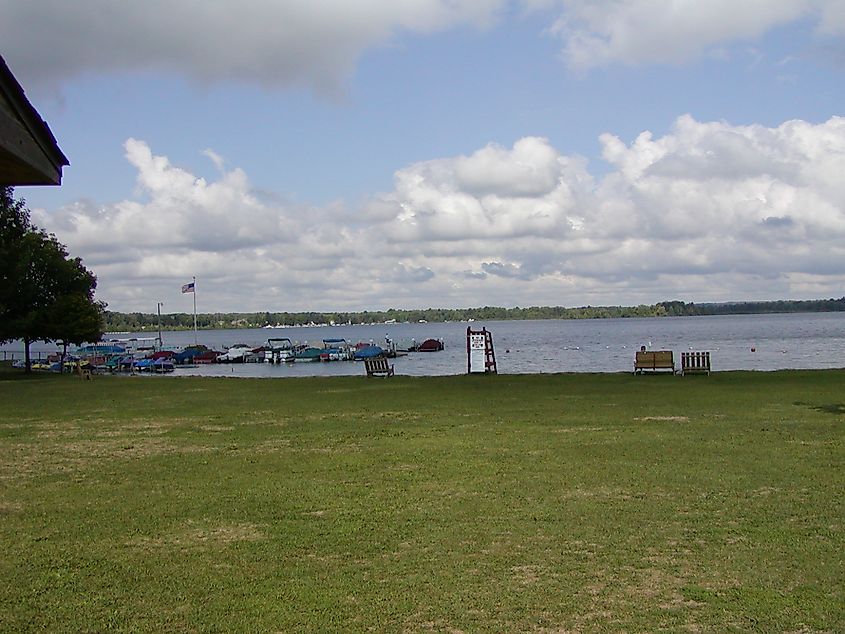 Conneaut Lake, the state's largest natural lake, is a peaceful waterfront destination in Pennsylvania for budget travelers. From days on the lake with water fun for the entire family, like swimming, boating, and fishing, to immersive nature hikes along the surrounding trails, it just keeps on giving. You can explore the region via scenic drives, with many homey towns around, like the lake's namesake city.
Enjoy the natural serenity around the lake and experience the charm and friendliness all around its 929-acre water area. Find plentiful cottage-style options fit for all group sizes and tastes to lovingly call one your home away over active or relaxing recreation like fishing or perhaps a new skill of water skiing. Return for the next season to your favorite place, or find another one through the privately owned cottages and rental homes from Conneaut Lake Resort Rentals.
Finger Lakes, New York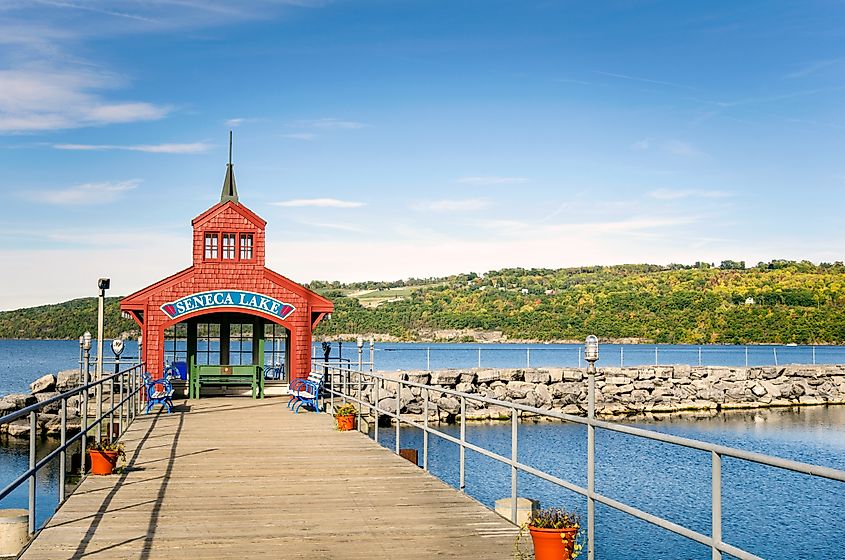 Looking for one last getaway in New York to end your summer with a bang and on a budget? Find what you seek and more right in your own backyard of the Finger Lakes region—a great budget outdoor escape for your family that will be the highlight of your summer and a destination for many memorable summer vacations to come. Escape the big city to explore around 11 narrow lakes, endless miles of breathtaking trails through state parks with gorges and waterfalls, and over 120 vineyards in the area. It really doesn't get better than the Finger Lakes! Immerse yourself in the real outdoor lover's paradise of water fun, hiking, and scenic drives, with tons of friendly towns and even more campsites to call home.
This, arguably the most picturesque region in central New York and one of the most diverse, will have you boating, fishing, swimming, water skiing, and kayaking like there's no tomorrow. Visit Roseland Wake Park in Canandaigua for an adrenaline-pumping go at the first and only cable wake park in the northeastern United States. Watkins Glen State Park, with its slew of waterfalls of all shapes and sizes, calls for days of chasing cascades through the naturally conditioned air and picnics in the mist. Ready to unwind or wind down? The Finger Lakes Wine Trails, the Finger Lakes Beer Trail, and the Finger Lakes Cheese Trail are a hand's reach away, while the Corning Museum of Glass and the Strong Museum of Play entice whole families.
Juneau, Alaska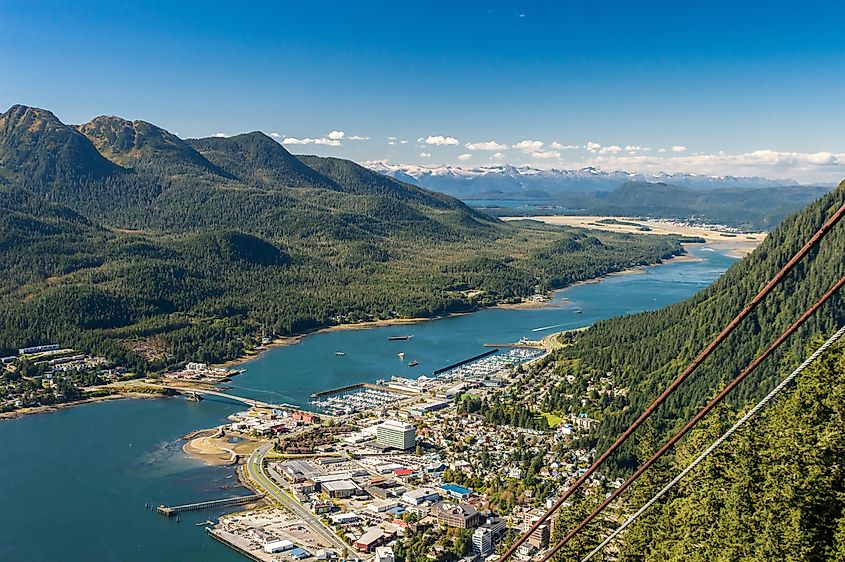 There's no northern United States without the country's biggest state, Alaska, so if you are near, make it your destination this summer or plan the greatest escape for the next! Not as desolate as you imagine, Alaska is home to warm locals and summertime temperatures. Fly into the state right here with the Juneau International Airport, just 8 miles from downtown, or take a boat or ferry into its mountainous embrace and immerse yourself in serenity. Find an Airbnb in Juneau or stay within your budget at the Juneau Hostel. Big on promoting tourism, you will find many inexpensive or free activities, like lovely hikes and the Mendenhall Glacier, part of the Juneau Ice Fields, for a fantastic, affordable summertime destination. The rapidly receding glacier is a remarkable site, with easy access from downtown Juneau via a city bus. Take a mile-long hike from the bus stop to the visitor center and bring a camera for the park's various hikes for all levels, where you will see house-sized icebergs, and bears in Steep Creek and Nugget Falls.
Just think about it: despite higher transportation costs, Alaska caters to tourists like locals, while the highly valued tertiary industries like fishing and services really put out their best. You will feel welcome, comfortable, and, most importantly, relaxed and have fun on a memorable getaway that will inspire you to come back and explore more of the great state. Juneau, mostly set in the humid rainforest, offers a summer average in the 60s and common rainfall by the season's end. Shop like a local for the best experience of the unique culture and find cheap food a hand's reach away in downtown, like the Alaskan Crepe with sweet and savory options or Grumpy's Deli for soups, hot sandwiches, and rice bowls. Take the two-hour hike up to Mount Roberts with rain boots for the muddy places and views from the top of the Gastineau Channel, Father Brown Cross, and the snow-covered highest peaks in the surrounding area. You can take a challenging trek down or opt for the gondola ride for $15 per person from the gift shop.
Oregon Coast, Oregon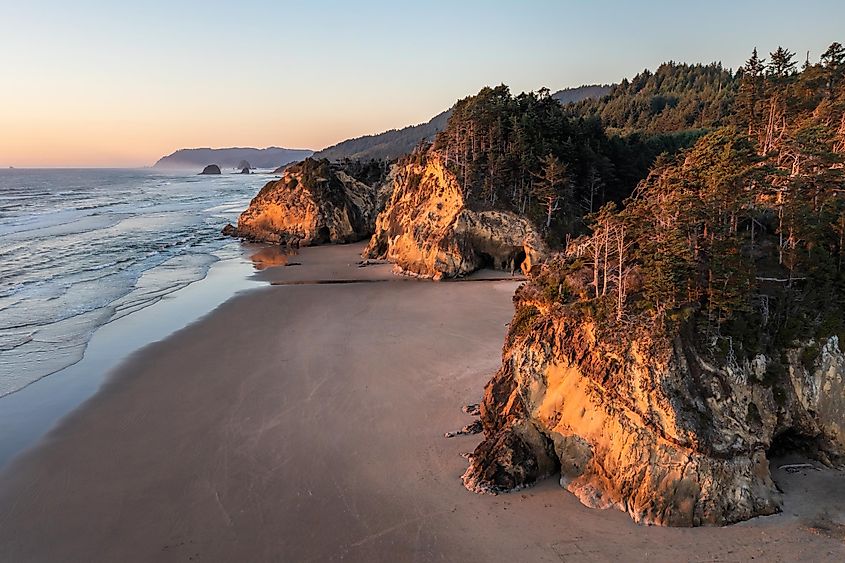 Full of campgrounds and replete with small, friendly towns, the Oregon Coast is a dreamy summertime destination by the ocean, with every inch more beautiful than the last. Find sandy stretches of beaches and the rugged coast, headlining wilderness and beaten by the waves. Forego a comfortable hotel for a waterside yurt, the cheapest non-camping option with the best access to all the views and activities. You can also snag an airbnb in Cannon Beach or even more affordable lodging in nearby Seaside or Astoria—some of the must-visit towns while you're here.
Sightsee and go tide pooling at Haystack Rock, and visit Ecola State Park for the most varied and beautiful hiking opportunities under the region's humid summertime air, warm temperatures, and little to no rain. Enjoy easy fly-in with two international airports in the north, in Portland, and the south, in Medford. Explore the whale coast on a road trip or plan ahead for a campground near some of the best places, like the Samual H. Boardman Scenic Corridor, with towns and trails to lookouts. Visit the Yaquina Head Lighthouse with tide pools and whales, and explore Oregon Sand Dunes National Recreation Area via rides, hiking, and crabbing by the waters. 
Yellowstone National Park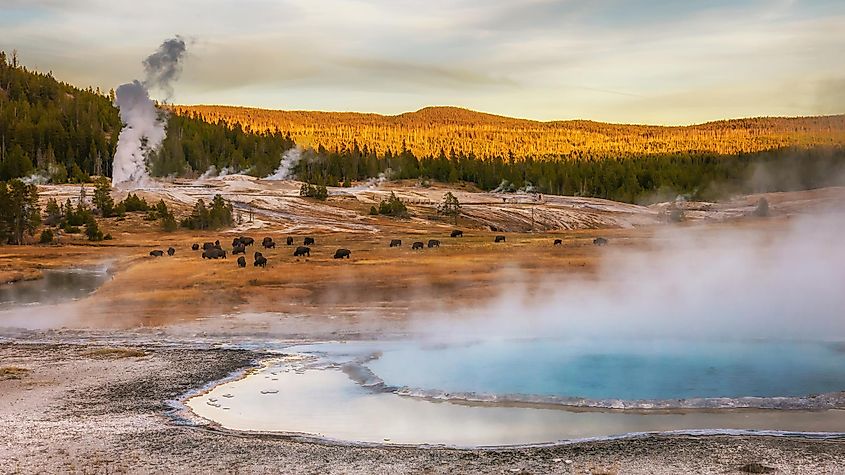 Who would have thought that a world-class destination and one of the US's most treasured slices of natural beauty would make for a budget summer vacation to remember? Be one of the millions of visitors but still feel alone within its 2.2 million acres of diverse landscape with erupting geysers, majestic wildlife, towering mountains, and scenic hikes. Enter the Yellowstone National Park at $35 per vehicle, $15 per person on a bike or foot, or under $9 per person for seven days of park access in a car with four people. Equipped with 12 campgrounds and over 2,000 campsites, with prices starting at $15 per night, don't wait any longer to end your summer on a high note.
From free admission days throughout the year to enjoying the priceless nature, choosing camping over the expansive accommodations that have to be booked in advance is a perfect summertime option. On a first-come, first-served basis, you can even reserve five of Yellowstone's campgrounds in advance for the next summer, with the best weather in July. Bring some food for the first few days and warm sleeping bags for summer nights in the wilderness, which can get chilly. Explore the region around and get local advice for the best places to get provisions for cooking at the campsite and cheap cafes in the many towns around.
From the endless shores to islands and sand dunes, you will not be remiss in ending your summer at the top of the world, or at least in the country. Choose a national park replete with natural wonders like waterfalls, gorges, mountains, and scenic overlooks that will leave you breathless. Pay the entrance fee to sleep under the starry skies in a cozy bundle with those who matter and wake up to fresh-faced nature every blissful day. The small towns welcome visitors and entertainment seekers from the wild, including the must-visit towns of Bar Harbor, Astoria, Cannon Beach, and Seaside, spread throughout the northern portion of the US for your convenience. Hell with it! Visit Alaska, and you will be one of the few to experience all this welcoming state has to offer for yourself.