Beaches Near New Orleans: Beachfront Towns and Road Trip Destinations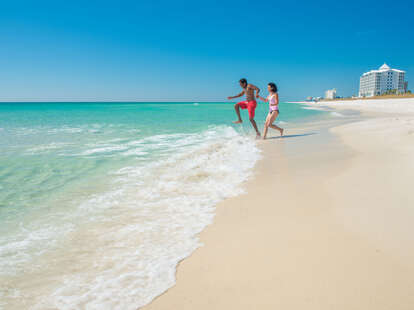 Pensacola Beach


| Photo courtesy of Visit Pensacola
Pensacola Beach


| Photo courtesy of Visit Pensacola
When New Orleans' sweltering summer temps set in, the city's proximity to postcard-perfect Gulf Coast beaches offer a welcome respite. Fortunately, some of the region's most lauded beaches are only a short drive away, meaning you can easily take a coastal road trip, work on your tan, and get back in time for a nightcap at one of the city's best bars. Better yet, make a weekend out of it by spending a night or two at one of these worthy destinations, balancing time on the sugar-sand beaches with locally inspired food and drink, not to mention a big old dose of Southern hospitality. Just about every beach claims to be the most inviting, so get out there, down some drinks while working on your tan, and lean into your position as judge of the best beaches near New Orleans.
Recognized as one of the best small beach towns in the country, this unique destination embraces the heritage of the Coastal Mississippi region. The public beach has free parking and offers calm, warm waters and white sand.
There's only a handful of lodging options, the most notable of which might be The Pearl, a boutique hotel with 59 luxury suites and an acclaimed restaurant, Thorny Oyster. The Bay Town Inn provides a charming bed and breakfast experience with a coastal vibe.
Dining standouts run the gamut from Starfish Cafe's healthy fare and Sycamore House's fine dining to The Blind Tiger's breezy outdoor setup. Be sure to check out The Mockingbird Cafe, famous for its homemade brunch fare and eclectic gallery.
Distance from New Orleans: An hour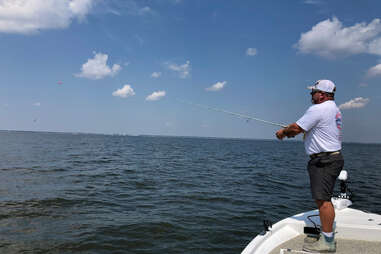 Known by some as "The Pass," this quaint beach is a good option for escaping the crowds and finding some peace and quiet by the Gulf. The small, walkable town is filled with historic homes, old oak trees, and charming local businesses.
Fun and quirky Cat Island Coffeehouse is a must-visit for its curated selection of books and nice views of the Mississippi Sound. Located in the heart of the harbor is the original Shaggy's, popular for its island-style atmosphere, water views, and deep sea fishing charters. Bacchus on the Beach serves up fresh oysters, muffulettas, and other mouth-watering fare.
This being a small town, lodging options are limited. Hotel Pass Christian is a ten-room boutique option overlooking the harbor, and Hotel Whiskey is a comfortable, affordable option with a modern steakhouse on its ground level.
Distance from New Orleans: An hour and 15 minutes
This historic coastal town provides a far more relaxed atmosphere than Biloxi, whose mega-casinos feel much further than just five miles away. The idyllic downtown—less than a mile from Front Beach, a two-mile stretch of soft white sand—is lined with one-of-a-kind shops and centuries-old live oaks.
Lively crowds arrive for annual events like the Peter Anderson Arts & Crafts Festival, the largest fine arts festival in the state. Other artsy highlights include the Walter Anderson Museum of Art and Shearwater Pottery. James Beard Award-nominated Vestige sets a high culinary bar with its intricate, ever-changing tasting menus. Edible delights can also be found at Tatonut Donut Shop, Blue Dog Bistro (for breakfast and brunch), and Murky Waters BBQ.
The Hemingway is a quirky hotel nestled in the heart of downtown; housed inside a historic bank building, each of the four guest rooms has its own style and personality. Dating back to 1927, the recently renovated Gulf Hills Hotel & Resort is known for hosting the likes of Elvis Presley, Marilyn Monroe, and Al Capone. The Roost is an upscale boutique option within walking distance of the beach and downtown.
Distance from New Orleans: An hour and 30 minutes
Billed as The Secret Coast, Mississippi has 62 miles of shoreline lined with unique communities—but none are better known than Biloxi. The soft white sands along Biloxi Beach have been extensively repaired since Hurricane Katrina, and barrier islands help keep the waters calm and perfect for swimming. While the beaches are nice enough, it's Biloxi's resort life and action that lures the majority of visitors. If you're up for a party weekend with a pool bash, concert, or big-ticket dinner, follow the crowds to the Beau Rivage Casino or Hard Rock Hotel and Casino, both of which are located on the beachfront.
Biloxi is packed with wallet-friendly buffet and fast food options, but the best eats can be found at places like Half Shell Oyster House, famous for its NOLA-inspired dishes; White Pillars, which serves a crowd-pleasing mix of Cajun, Creole, and new Southern cuisine in a grand Greek revival-style mansion; and McElroy's Harbor House, a favorite for seafood with water views.
A handful of recentl -launched attractions and experiences have helped bring new visitors to the area. In conjunction with the Maritime & Seafood Industry Museum, Biloxi Schooners takes the public on a journey through 300 years of history—Biloxi was once known as the "Seafood Capital of the World"—including a sailing excursion in a historic oyster schooner. Margaritaville Resort Paradise Pier Fun Park is a theme park with 15 nautical-themed rides and three restaurants all located on top of a massive deck with scenic views of the Gulf of Mexico. Music lovers are discovering Ground Zero Blues Club, which showcases both national acts and local talent, and is co-owned by Mississippi-native Morgan Freeman.
Distance from New Orleans: An hour and a half
The second-largest city in Mississippi offers nicely maintained beaches with soft white sand and waters that are clean but a bit darker than what you'd find at the more famous beaches to the east. Once you've had your fill of beachtime, take a boat excursion out to historic Ship Island—a barrier island located 12 miles off the coast that's part of the Gulf Islands National Seashore—or stick around and explore the eclectic downtown, featuring an ever-evolving public art scene in an old fishmonger's alley.
In keeping with the water theme, key attractions include the Mississippi Aquarium, Institute for Marine Mammal Studies, and Gulf Islands Water Park—the largest waterpark on the coast offers 11 different attractions, each incorporating regional landmarks. Myriad inexpensive chain hotels make up the bulk of the area's lodging options; the Courtyard by Marriott and Holiday Inn Express put you right across from the beach, while The Almanett is the best bet for a boutique stay.
Similar to NOLA, Gulfport's entertainment district covers much of the waterfront, harbor, and downtown and allows patrons to leave a restaurant or bar with alcoholic drinks in a go-cup. Popular spots for fresh seafood and good times include Shaggy's, The Chimneys, and Patio 44.
Distance from New Orleans: An hour and a half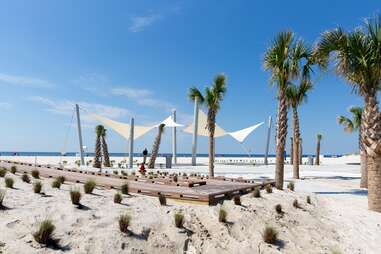 Don't sleep on the Alabama coast, 32 miles of soft white sand made up of crushed quartz washed down over thousands of years from the Appalachian Mountains. The most famous beaches can be found at Gulf Shores and Orange Beach, two communities that are situated six miles from one another, separated by family-friendly Gulf State Park. With their beautiful white sand beaches—Gulf Shores is larger and offers more coastline than Orange Beach—both usually offer a more relaxed (and lower-cost) option than the Florida beaches nearby.
Gulf Shores Public Beach is by far the main draw in town, close to lots of fun bars and casual restaurants. Longtime faves include The Hangout, Pink Pony Pub, and Bahama Bob's. Over in Orange Beach, the owners of the world-famous Flora-bama have opened a new beachfront dining option, CoastAL Orange Beach, offering beautiful views and two separate dining options (upscale and quick bar bites). Also popular: the huge patio at Cobalt, The Restaurant, and just-caught seafood at The Gulf, which is housed in shipping containers. For a taste of NOLA, Orange Beach has its very own Ruby Slipper outpost, serving up brunch treats in style.
Active travelers are flocking to the nationally-lauded Hugh S. Branyon Backcountry Trail, a 28.2 mile set of biking trails through Gulf State Park that offers a free bike-share service for easy access. Another popular local pastime is chartering a boat for some fishing or dolphin watching.
The destination is filled with chain hotels spanning all price levels. Among the most popular options are the Perdido Beach Resort in Orange Beach and the Best Western on the Beach in Gulf Shores.
Distance from New Orleans: Three hours and 15 minutes
As part of the Gulf Islands National Seashore—the largest protected stretch of seashore in the US—Pensacola features more than 18 miles of winding, pristine coastlines of emerald waters and acres of preserved forestry. These beaches, which have been ranked among the best in the country, attract a varied mix, from grizzled beach bums and fishing enthusiasts to wildlife lovers and environmentalists. The sugar-white sands and clear waters offer endless opportunities for solitude, especially when enjoyed as part of a bike ride or kayak trip.
History buffs have plenty to explore, as Pensacola was established in 1559, making it one of America's oldest settlements. The area's Creole influence can be found in architecture throughout the historic downtown, which boasts a thriving cultural scene. After a nearly three-year closure, Naval Air Station Pensacola has reopened to the public, once again allowing access to popular destinations such as the National Naval Aviation Museum and Fort Barrancas.
The epicenter of the party scene can be found at historic Casino Beach, which is easy to find— just look for the giant water tower painted to look like a beach ball. There's lots of free parking, plenty of lively eating and drinking spots (Shaggy's, Crabs on the Beach, Casino Beach Bar), and it's BYOB. (Head to the alcohol-free zone just slightly west for more of a low-key, family-friendly vibe.) For the full experience, set up a base camp at one of the beach's large-scale hotels, most notably the recently rebranded Pensacola Beach Resort (formerly known as the Margaritaville Beach Hotel).
Distance from New Orleans: Three hours and 15 minutes
Those who trek all the way to the Destin-FWB area are rewarded with more than 20 miles of white sand beaches and emerald green waters filled with all kinds of wonders. For beach access in Destin, check out access points such as James Lee Park, Henderson Beach State Park, and Norriego Point, which has shallow tide pools to explore. The Boardwalk on Okaloosa Island offers live entertainment, fun eateries, and beach access.
The destination is home to more than 400 artificial reefs and is known for its boating, watersports, snorkeling, and diving. Billed as the "World's Luckiest Fishing Village," Destin boasts the largest commercial charter fishing fleet in the country, guaranteeing memorable offshore experiences that go beyond simply catching one of the 20 types of edible fish available from its waters. Among land-based attractions, the Gulfarium Marine Adventure Park is debuting its new Dolphin Oasis addition, a multi-million dollar habitat for seven Atlantic Bottlenose dolphins.
Enjoy the catch of the day at places like Brotula's Seafood House & Steamer, Boshamps Seafood & Oyster House, and Ovide, the first restaurant in Florida by James Beard Award-winning chef Hugh Acheson.
Hotel highlights include the Beal House Fort Walton Beachfront, Hilton Sandestin Beach Golf Resort & Spa, and Hotel Effie, an upscale hideaway nestled between the Gulf and Choctawhatchee Bay.
Distance from New Orleans: 4 hours
Want more Thrillist? Follow us on Instagram, Twitter, Pinterest, YouTube, TikTok, and Snapchat.
Eric Grossman is a contributor for Thrillist.