Cheap Flights to Hawaii Are Back (& Maui Wants You to Visit)
Everyone wants to go to Hawaii, but too many travelers think it's too expensive to get there. We're here to prove you wrong.
Cheap flights to Hawaii have made a serious comeback. We've found and sent Thrifty Traveler Premium several alerts in just the last few weeks. That includes roundtrip fares from the West Coast as low as $196 as well as points and miles to get to Hawaii nearly for free, with roundtrip fares as low as 16,000 Delta SkyMiles, too.
If you've been following the news, you might have seen that the island of Maui suffered from some devastating wildfires in August. These deadly fires damaged the historic city of Lahaina as well as other parts of the northwest coast of Maui.
However, Maui is a large island: Other popular spots like Kahului, Kihei, Wailea, Paia, Hana, and others were largely unaffected. After an initial caution to steer clear of Maui altogether in order to aid the evacuation and recovery efforts, state and local officials have been ramping up calls for visitors to return to Maui. 
"Beginning October 8, all travel restrictions will end and West Maui will be open to visitors again, so people from Hawaiʻi and around the world can resume travel to this special place and help it begin to recover economically," Hawaii Gov. Josh Green announced earlier this month.
With that in mind, you should put Hawaii travel back on your list for 2023 or 2024. So what else are we seeing, flight-wise? We're so glad you asked.
How & Where to Find Hawaii Flight Deals
Getting a cheap flight to Hawaii is never a sure thing. Paying $600 to more than $1,000 or more per ticket can be the norm, and travelers can go months without seeing even a halfway decent deal to the islands.
But that has changed in a big way: The flight deals and fare wars between airlines to Hawaii are red-hot and ultra-frequent right now. In the last few weeks alone, we've found and sent Thrifty Traveler Premium members several flight deals from airports nationwide under $500 roundtrip or much less for trips in 2023 or 2024.
Exhibit A: This nationwide flight deal for all four major Hawaiian islands.
Get cheap flights to Hawaii like this one in your inbox with Thrifty Traveler Premium!
We've seen one-stop flights to Honolulu (HNL), Maui (OGG), Kauai (LIH), and The Big Island (KOA) nationwide at half-off or more. Now all you have to do is pick the best island to visit in Hawaii for your cheap trip.
If you live on the West Coast, you're in for some even more incredible fares.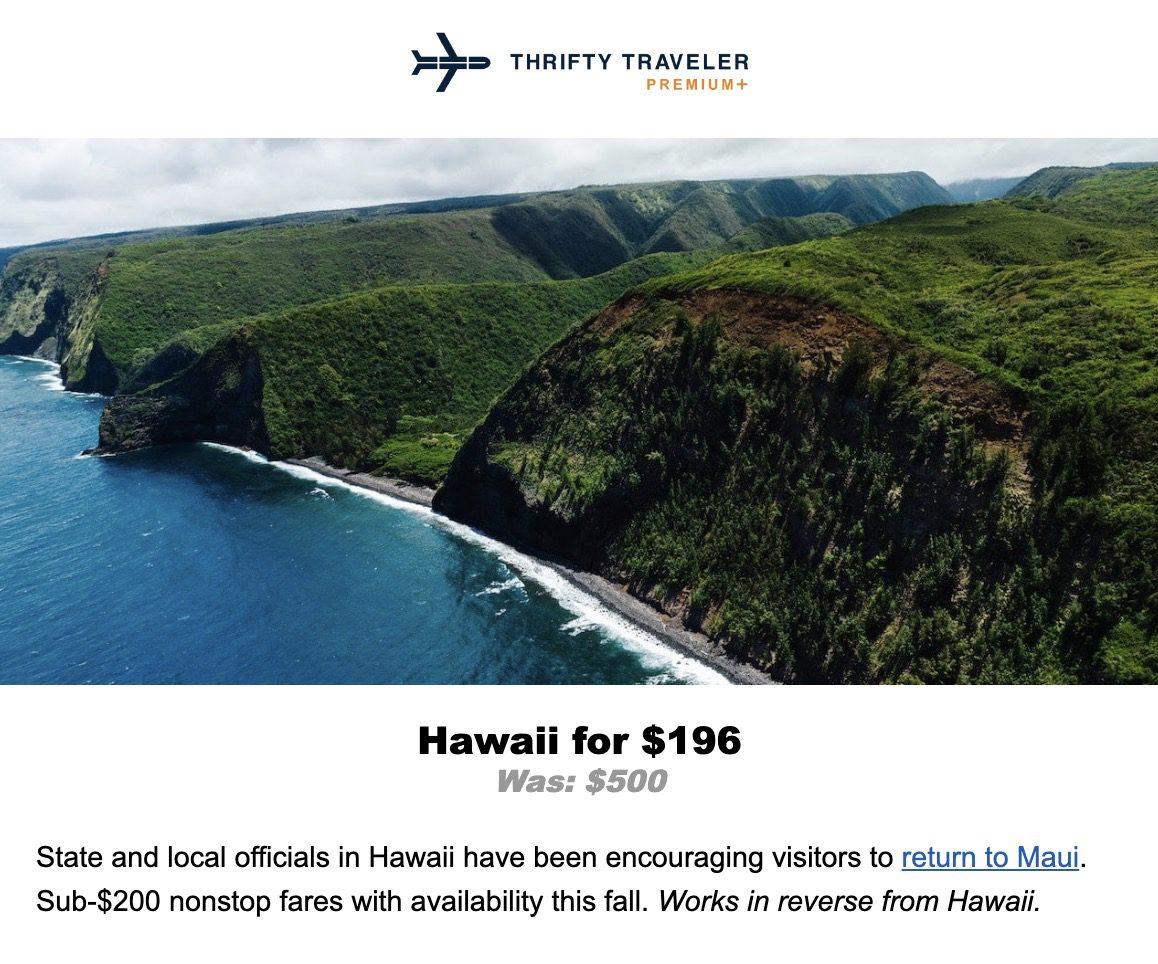 Sub-$200 flights on the mainland are already a good deal, but if you can get all the way to Hawaii and back for that price, you'd better get to booking!
The hotter the deal, the shorter it lasts! This deal is no longer live, but you can get the next great deal we find with Thrifty Traveler Premium!
Use Points & Miles to Get to Hawaii
Why pay cash when you can use your points and miles to get to Hawaii instead?
On top of cheap cash flights, we've been finding some exceptional award deals to these islands and instantly alerting our Thrifty Traveler Premium members. Yes, our Premium members get award alerts to use their points and miles on top of all those cheap cash fares, too.
Want to fly Delta to Hawaii? The SkyMiles award rates are often astronomical, but there's a great workaround to get on a Delta plane to the islands for less.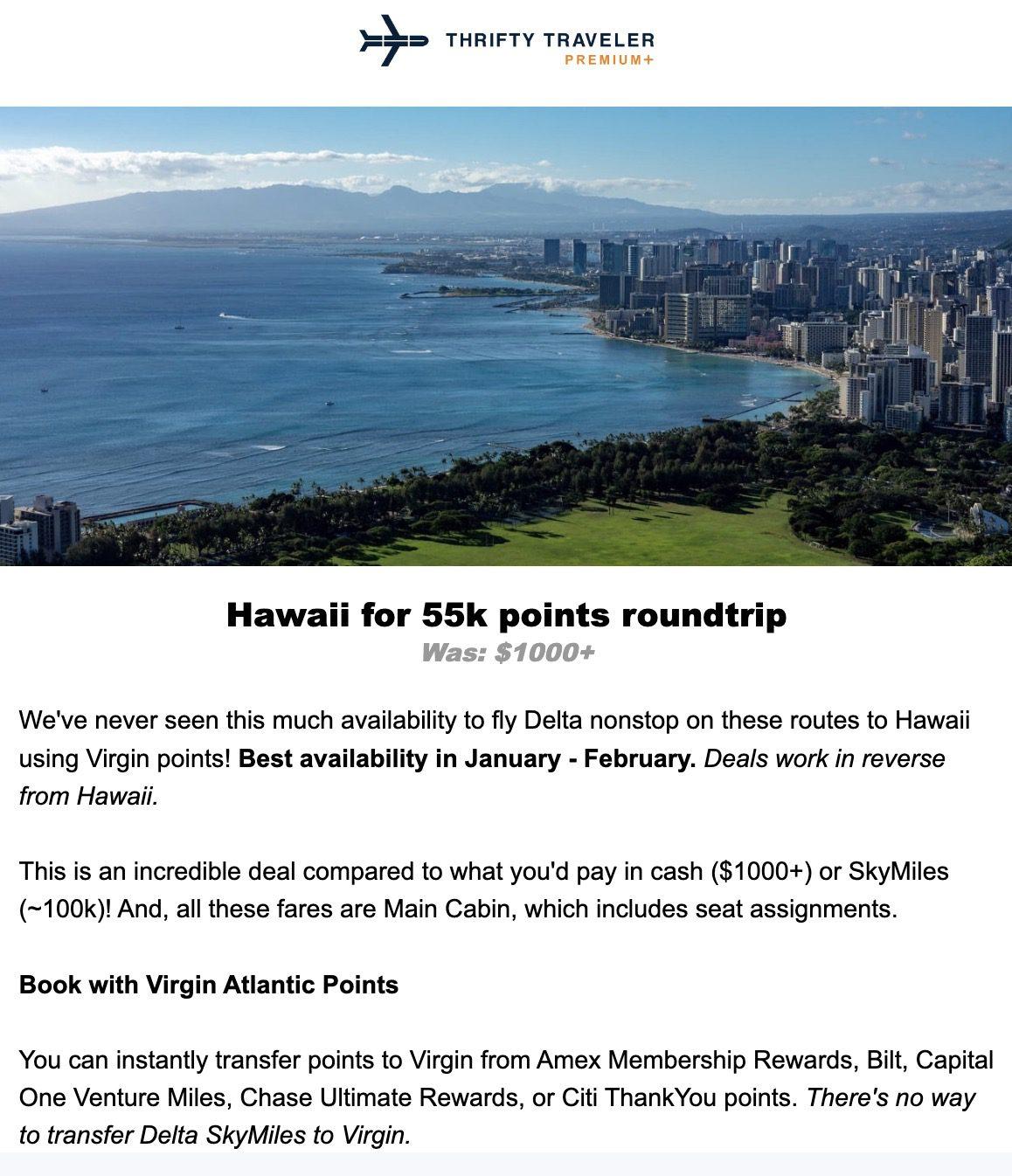 That's right: Transfer your credit card points to Virgin Atlantic and you could book nonstop Delta flights for as little as 55,000 points roundtrip! We're not exaggerating when we say that these flights are routinely more than $1,000 in cash or around 100,000 Delta SkyMiles apiece.
After a long absence, Delta SkyMiles flash sales have made a comeback recently. And the deals don't get much better than just 13,000 SkyMiles for roundtrip flights to Hawaii!
Looking for another points and miles option? Learn how to do it for 15,000 miles roundtrip using miles from Turkish Airlines!
If you have some points stacked up anywhere, there's probably a comfortable and convenient way for you to fly to paradise this year. Just be ready to jump on fares like these when Delta cuts rates.
Hawaii Stopover, Anyone?
OK, let's do something amazing: It's called a Hawaii stopover, and it's exactly what it sounds like.
On your way into or across the Pacific Ocean, take a few extra days in Hawaii before you come back home! Heading to Japan? Break up the long flight with a few days at the beach.
Here's another example: Visit the Cook Islands in the South Pacific and then spend a few days in Hawaii all for the price of one.
Hawaiian Airlines just launched this new Cook Islands route this year, and it makes for a tantalizing opportunity to book a stopover in Honolulu (HNL).  Somebody please do this or I might have to!
Here's something else pretty great about Honolulu (HNL), and that's the connectivity to Japan from the Pacific hub. Besides the U.S., Hawaii is extremely popular among Japanese travelers, and for that reason, U.S. airlines like Delta and Hawaiian as well as international carriers like All Nippon Airways (ANA) all serve Honolulu (HNL) to Tokyo (HND and NRT).
And ANA flies something pretty special: First Class on the "Flying Honu" (a.k.a. the Airbus A380).
Whether you want to book this on the way to Japan or on the way back (or both!), Honolulu has tons of award space on this sweet route. Imagine booking the cheapest roundtrip flight possible to Hawaii, and then booking your Japan flights within that. What a trip!
Bottom Line
Hawaii flights don't have to be expensive.
Airlines are slashing flight prices to Hawaii for 2023 and beyond, just as the government in Maui is asking for the return of travelers in the wake of the devastating fires on part of the island.
So feel confident booking one of these Thrifty Traveler Premium flight deals is the difference between paying $800-plus for your next trip to Hawaii … or less than half that.
FAQs About Finding Cheap Flights to Hawaii
The pandemic triggered a flood of lower prices for flights to Hawaii, but many of them have stuck around. This guide is all about those recent deals.
But when it comes to finding cheap flights, it won't always be this easy. While you might find that airlines are currently slashing prices, there are some general tips and tricks to keep in mind when it comes time to book the cheapest flights to Hawaii down the line.
Can I travel to Maui after the devastating fires of 2023?
Yes. Local officials are calling on travelers to return to Maui to boost the local economy.
While Lahaina remains closed to the public out of respect for the town's residents, the rest of West Maui including Kā'anapali, Nāpili, Honokōwai, and Kapalua will fully reopen on Oct. 8, according to the latest emergency proclamation signed by Hawaii Gov. Josh Green.
Travelers are encouraged to make or keep their existing travel plans to Maui while also being especially mindful and respectful as the community recovers from the deadly fires.
How do I find cheap flights to Hawaii?
We'll update this post with new deals and updates about cheap flights to Hawaii. It's a hotspot for travelers, and we're constantly on the hunt.
But if you always want to be up to date on flight deals for Hawaii and other bucket list destinations the moment they pop up, we highly recommend signing up for Thrifty Traveler Premium+! Premium+ members get all the best flight deals to Hawaii – you'll only see a fraction of them here on Thriftytraveler.com and other flight deal websites.
What is the cheapest airline to fly to Hawaii?
Looking for the best airline to fly to Hawaii on a budget? We regularly see affordable prices with direct flights to Hawaii on Hawaiian Airlines, Alaska Airlines, Delta Air Lines, American Airlines, Southwest Airlines, United Airlines, and WestJet – if you live in Canada, of course.
When is the best time to book a flight to Hawaii?
We always recommend booking your flights at least three to six months before you plan to travel – especially if your travel dates are flexible.
But as with all things in finding cheap flights, the key to getting a great deal on flights to Hawaii is simple: You may need to wait for a great price to come to you, then book on the cheapest dates. Flexibility is the key to getting discounted tickets.
What is the cheapest time of year to fly to Hawaii?
It depends: A great flight to Hawaii can pop up for a trip at any time of the year.
But many find that it's cheapest to fly Hawaii in January, February, April, and September through November. During the holidays and the peak travel months of June and December, you're far more likely to encounter higher prices, so it could be worth avoiding a trip over those times.
When is the best time to visit Hawaii?
If getting the cheapest flight possible to get to Hawaii is your end goal, then you might not be worrying too much about the best time to visit Hawaii – it's Hawaii, after all. However, if you're evaluating various options based on the cheapest flights to Hawaii that you've found, here are some factors to keep in mind:
Hawaii is the warmest during the summer months, and the sunny weather is accompanied by calmer waves during this time of the year if activities on the beach are the main focus of your trip.
For those looking to avoid crowds, aim to book a visit in January, February, September, October, or early November – all of which tend to be slower tourist seasons on the islands.
Planning to do some whale watching? Prime viewing for these beautiful mammals occurs from February to early March.