Flights from Vancouver to New York: How to get cheap tickets
Take a bite out of the Big Apple on the cheap.
Flights from Vancouver to New York offer some of the most affordable trips across the border — but there are a few things to keep in mind before you buy a ticket. 
Flights from Vancouver International Airport (YVR) to any of the airports in and around New York typically climb up by a couple of hundred dollars starting in mid-December and gradually increase in price as the holidays approach. 
If you plan to travel to the Big Apple over the holidays, expect to pay top dollar for more than just your plane ticket. Hotels book up quickly in the sprawling metropolis during the most magical time of the year, so try to book your accommodation as soon as you nail down your travel dates. 
If you aren't keen on seeing the Rockefeller Tree in person or fighting crowds, opt for a less busy time of year. 
Air Canada flights to Newark 
One of the best deals available to New York from the Lower Mainland is offered through Canada's largest airline, with return trips totalling just over $350. But there is a catch.
Travellers who opt for the low-cost option will fly into Newark Liberty International Airport (EWR), which is located in New Jersey. While it is in a different state, it doesn't take that long to travel from the airport to New York and there are several options to get there, including by bus, shuttle, train, or car. It takes roughly 40 to an hour to get from the airport to Times Square, depending on what mode of transportation you opt for. In comparison, it takes about the same amount of time to travel from John F. Kennedy Airport (JFK), despite that airport being located in New York. 
Air Canada's Newark route has non-stop flights departing on all days of the week. While you will want to book well in advance for peak travel times, such as over the holidays, there are plenty of low-cost options during shoulder seasons. 
JetBlue flights and other options to JFK
Fans of John F. Kennedy International Airport (JFK) can enjoy direct, round-trip flights from Vancouver with New York-based airline JetBlue for around $500. 
Travellers can also take advantage of discounts on the airline's popular routes across the United States, such as JetBlue's direct service between JFK and Miami International Airport (MIA). From Vancouver, this option typically costs far less than most flights between the two cities, and it only involves one stop in the airline's hub city, New York.
While JetBlue is the only airline that offers direct service from YVR to JFK, several other carriers offer the route for less with a stopover. Delta, WestJet, Air Canada, and American Airlines offer it for around $400 on select dates. If you book far enough in advance, there are some dates showing the route for as little as $350. Use the Google Flights price calendar to browse low-cost options. These tickets are about $100 cheaper than typical trips, according to Google.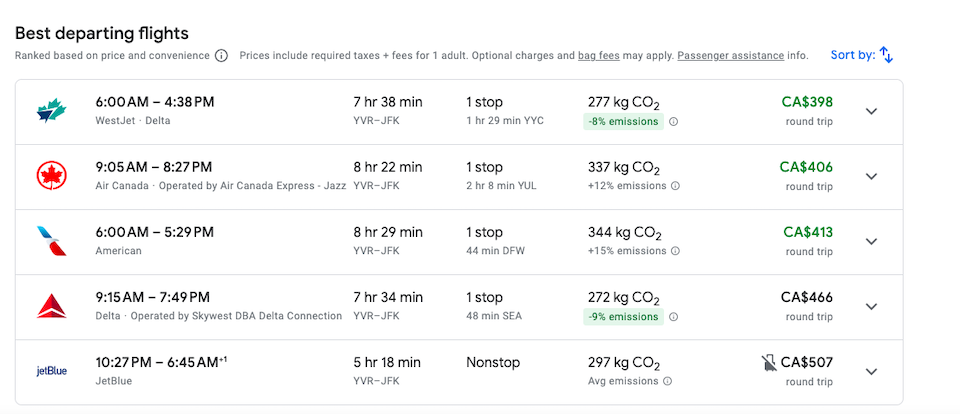 Flights to LaGuardia
Air Canada generally offers the cheapest flights from YVR to LaGuardia Airport (LGA), with prices for round-trip tickets starting at around $370. These trips generally make a stop in Montreal or Toronto. 
Prices with other carriers, such as United Airlines, Westjet, Delta, and other airlines, generally start between $400 and $500 and go up from there.