Luxury within reach: One of the world's best hotels gets an affordable sibling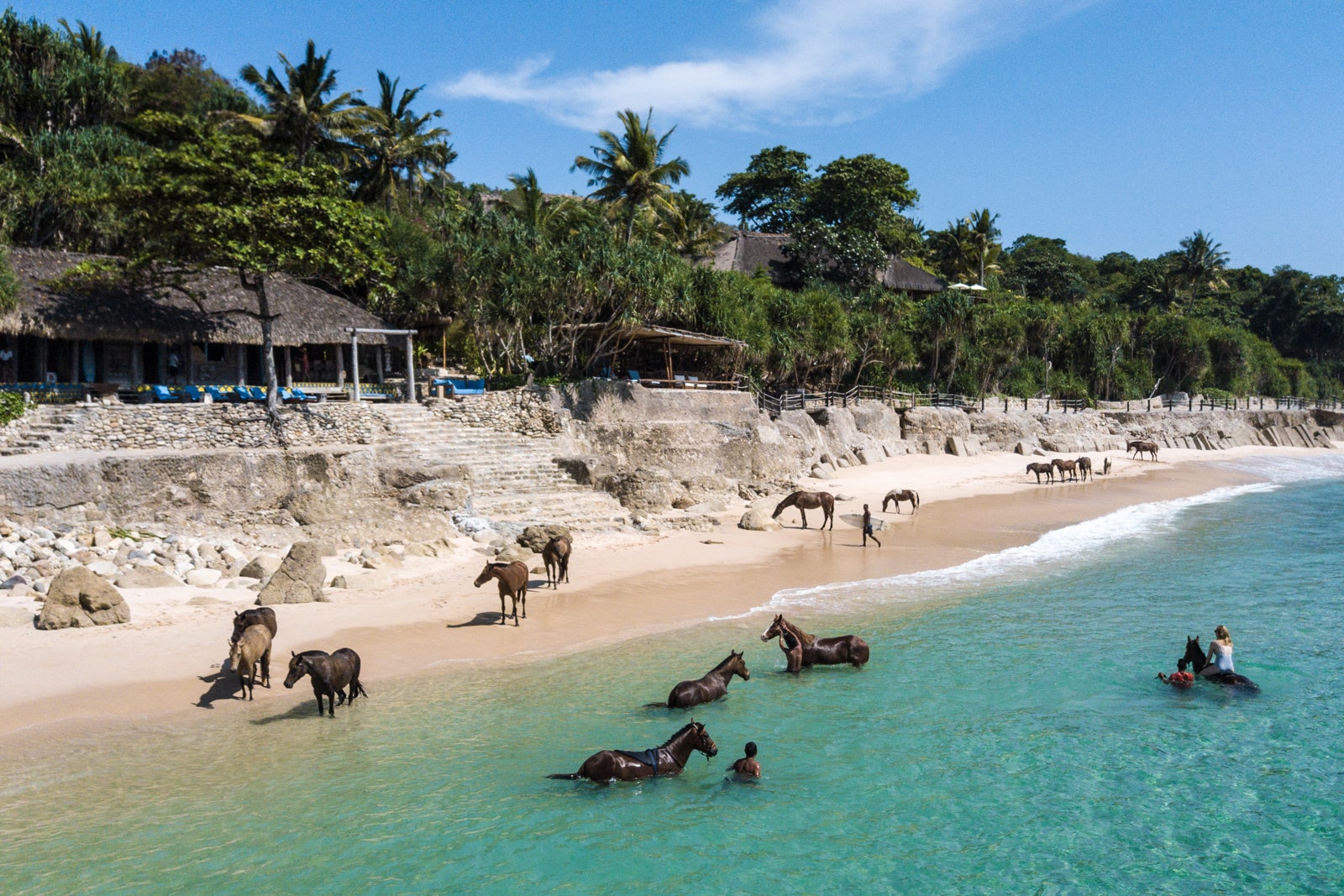 Can you catch lightning in a bottle twice? Chris Burch, the creator of one of the most luxurious hotels in the world, certainly seems to think so.
NIHI Sumba, Burch's resort in southeastern Indonesia, is the stuff of luxury hotel legend. It's a favorite of staff at TPG, including The Points Guy himself, who after a 2017 visit said NIHI's combination of exploration and relaxation was one that would stay with him the rest of his life.
It's easy to see why. NIHI bills its Sumba Island location as one where "rugged luxury meets unregulated freedom." It's a place with tailor-made luxury experiences that nestle in extraordinarily well with its surrounding community — a property that shows luxury doesn't have to mean gold-plated anything. Instead, it can be all about the surrounding beauty and activities.
Sign up for our daily newsletter
Initially named Nihiwatu after the surrounding beach, the resort was launched in the 1980s by original owners Claude Graves (a surfer) and his wife, Petra, who set the stage for NIHI's ethos. The couple launched the Sumba Foundation to give back to islanders and build out a better health and infrastructure network across Sumba Island. The foundation grew through resort guest donations and involvement and now includes an educational component, work training and business opportunities for islanders.
Burch, an American entrepreneur known for his role in launching and growing brands like Faena and Tory Burch, bought what is now NIHI in 2012 in partnership with hotelier James McBride, who is now CEO of NIHI Hotels.
The duo expanded the resort into today's ultra-luxurious iteration by reportedly spending tens of millions of dollars, adding private villas with views of the Indian Ocean, a world-class spa and other luxurious amenities. At the same time, the NIHI team adheres to sustainable building practices and pays homage to Sumbamese culture with the resort's grass-thatched roofs, local art and a general mindset to rely on nearby resources
Beyond the beauty of it all, NIHI's experiential component is a major draw for its guests. Private butlers can arrange everything from horseback riding and swimming — even horseback spear throwing, or Pasola — to yoga and cooking classes.
Long story short: The resort is as much about giving back and preservation as it is about providing a one-of-a-kind, ultra-luxury experience.
Sure, it's not the easiest place to get to: take a flight to Bali, a $605 flight from Bali to Tambolaka airport organized by the resort and then a 1.5-hour drive (or a private helicopter charter). Nor, with rates at times later this year going for close to $3,000 a night, is it the most affordable. And Burch and McBride know that.
"The key to the hotel business is being curious, and when young people go to NIHI, it's a once-in-a-lifetime experience. They blow their whole budget," Burch said in an interview with TPG, alongside McBride. "We need to offer the same experience to these younger people that can't afford to pay more than $450 a night, but they [still] want that feeling."
Recognizing that, Buch and his team decided to create a new, more affordable brand that they say will pack the same unforgettable punch as NIHI but without the out-of-this-world price tag. Enter, Kodi.
TANIA ARAUJO/NIHI HOTELS
Kodi comes to life
The first Kodi property is slated to open next summer overlooking Komodo National Park on the Indonesian island of Flores, and the brand is expected to grow into more locations around the world.
Though separate from NIHI, Kodi will play on elements of its luxe big sister brand like an emphasis on design and experiences tailored to the surrounding environment of each property. There will also be a philanthropic component to each hotel.
McBride said the Kodi brand will work in more locations (like mountain, sea, lake or city destinations) than NIHI, which will stick to more "extraordinary" locations with world-class design "appropriate to the location it's in." While the NIHI brand to date has centered on Indonesia, a property in Costa Rica is also in the works.
While many of the specifics of Kodi are still under wraps, it will be interesting to see how the company transforms elements of NIHI in order to reach that more attainable price point. NIHI is known for having smaller room counts, larger villas and pools and private butler service. But $450 a night probably won't get you a personal butler, will it?
The NIHI team's idea that a once-in-a-lifetime vacation doesn't have to be such a one-off experience comes in the midst of increased competition in the luxury space — even at the highest reaches of luxury travel.
On the attainable luxury front, hotelier Ian Schrager is putting greater focus on expanding his Public hotel brand — one billed as combining a luxury experience with some elements of a limited-service hotel by relying on technology to facilitate some guest demands.
Schrager was known for co-owning the famed nightclub Studio 54 before moving onto the hotel world and accelerating the boutique hotel trend with properties like the Morgans Hotel and Delano South Beach.
His focus these days, however, appears to be on Public's push into its new spin on more affordable luxury. For comparison, a room at the Public in New York City commanded a $400 a night rate later this fall while a similar room at the New York Edition (which Schrager partnered with Marriott to launch) was going for $986.
Undercutting high-end hotels on cost without eliminating the overall vibe would be a significant shift in the hospitality sector if Schrager and the NIHI team each execute the model well. But NIHI and Kodi face competition beyond Schrager.
NIHI once might have competed directly with brands like Aman that had been associated with traveling to remote parts of the world to find solitude for a hefty price. Now, Aman is pushing closer to where people live by opening urban resorts in major cities like Tokyo and New York City. A Beverly Hills location is also in the works, alongside a beachfront property in Miami.
It's also launching Janu, its own more affordable alternative to Aman, with locations set for Montenegro and Tokyo. That said, we'll have to wait to see what "affordable" really means to Aman, where nightly rates at the recently-opened New York property are well over $3,000 a night.
Where Kodi will actually land in price and location, at least outside of Indonesia, is also up in the air — but don't rule out the NIHI and Kodi team expanding closer to their client base.
"It's going to move really, really quickly, and I think it will move quickly to where it's a brand we can bring to the U.S.," said McBride.
Not a standard luxury playbook
The NIHI team's expansion of its new Kodi brand comes at a time when the world's largest hotel companies are salivating over the luxury hotel sector — and strategizing how they can get a bigger piece of the high-end pie.
Hyatt's Apple Leisure Group takeover has expanded its presence in Europe and given it a leg up with high-end, all-inclusive resorts. But Hyatt's luxury play isn't just about all-inclusive resorts.
The Chicago-based hotel company partnered with Small Luxury Hotels of the World in an alliance where members of the World of Hyatt loyalty program can earn and redeem points at SLH properties. The company also ramped up expansion at its luxury Park Hyatt and Alila brands as well as the wellness-oriented Miraval offering. Ten Park Hyatt hotels are in the company's development pipeline along with three Alila properties and a Miraval planned for Saudi Arabia.
Accor's expansion into the lifestyle hotel sector, one that focuses more on experiences and dining, also accompanies growth in its ultra-luxury division, led by the Raffles and Orient Express brands. The company's 15-hotel development pipeline of new Raffles hotels in the works puts the brand on track to nearly double its global footprint. Accor also has three Orient Express hotels in various stages of planning and development. The company has identified roughly 80 destinations worldwide where it sees an opportunity for future growth and development in the ultra-luxury sector, an Accor spokesperson told TPG.
Marriott CEO Anthony Capuano earlier this year indicated the company was also on a luxury hotel expansion spree, as this highest-tier sector only accounts for 10% of the company's hotel portfolio but 25% of the fees it collects from hotel owners licensing out its various luxury brands.
"It's a powerful driver of the loyalty program, so you'll continue to see us accelerate our growth in luxury," Capuano said at a New York University hotel conference this summer.
But NIHI and Kodi aren't likely to play by the same rulebook as these large hotel companies. Marriott and Hyatt are publicly traded companies and ultimately answer to Wall Street. That means better explaining costs, which usually requires keeping expenses low and an "if it isn't broke, why fix it?" mindset.
As Schrager once told me (with a laugh) about partnerships between smaller, cooler brands and the bigger conglomerates: "You have to take a look and see whether or not you think that person is going to be able to make sure there's not too much meat on a ham sandwich when it gets sent down to the dining room."
These bigger companies might balk at what keeps NIHI at the top of review lists — even if some of their own high-end brands like St. Regis fall short when TPG sends reviewers in to assess the product.
NIHI and presumably Kodi would have no problem sending guests too much meat on their ham sandwich, figuratively speaking. They will do whatever it takes to maintain a high level of repeat business. That means changing out decor and design practically every year.
"You have to come back and constantly see that there's been improvement and change," McBride said. "That improvement and change can be in color, can be in the field, can be in the gardens [or it] can be in the experiences, but there always has to be something new. Every single business needs to evolve … There's nothing more powerful for your customers to keep them coming back than surprising them and creating delight that way."
That ethos is likely why NIHI isn't losing much sleep over all the new focus by other companies looking to beef up their own luxury hotel presence — or voicing concern that their new brand is likely to face more direct competition.
Soon we'll see how that plays out for Kodi. How much ham can Burch and McBride put on a $450-a-night sandwich and where will they find ways to create new experiences and spaces for repeat guests without driving rates to NIHI-level highs? We're excited to find out.
"I have some of my favorite hotels in the world, and I don't want to say [what they are, but] I swear to you: They don't invest money back into rooms. They just don't do it," Burch said. "We're going to do it forever, and we never want to get tired, and we always want to look young and happy. That's it. It's that simple, and I think that's our key to luxury."