YVR tickets: Fly to Vancouver from Los Angeles for only $58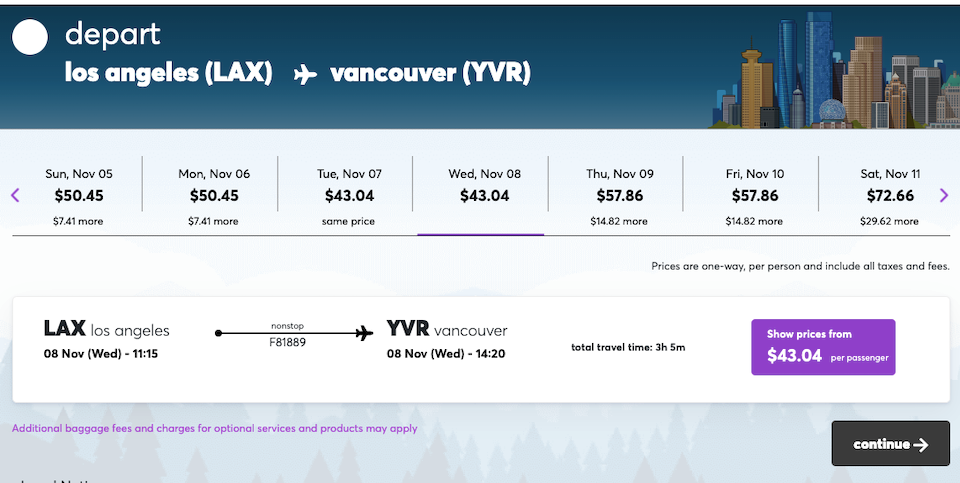 That jaw-dropping price includes taxes and fees.
A one-way ticket from the City of Angels to Vancouver is the cheapest ticket available departing from the United States to the region. 
While it might cost a pretty penny to enjoy the lifestyles of the rich and famous, getting to and from the city that's home to the Hollywood Hills is one of the cheapest flight options for residents of the Lower Mainland. 
Ultra-low-cost carrier Flair Airlines offers return trips with direct flights on the popular route connecting Vancouver with Los Angeles for under $200 on select dates. Prices for round-trip airfare to nearby Seattle start at over $300, despite being a significantly shorter flight. 
Starting on Nov. 1, however, one-way tickets from Los Angeles International Airport (LAX) to Vancouver International Airport (YVR) cost a jaw-dropping $58 on numerous dates. 
You can use the Google Flights price calendar to find the cheapest options that work with your travel dates and then book your ticket directly with Flair. When you book a ticket heading from LAX it will appear in U.S. currency, so the US$43.04 works out to closer to C$58 based on the current conversion rate.  
You must pay an extra fee for bags with Flair Airlines. You can take a personal item but anything else will cost you, including a piece of carry-on luggage.
Book your flight online with Flair Airlines.